About Us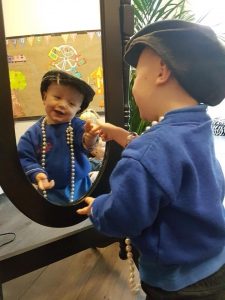 Stepping Stones Nursery is an 'Outstanding' Nursery which has been established since 1990, with an ideal central location, easy access to the town centre, main ring road links and the main railway station within the city, makes us the perfect choice when considering childcare.
We have an excellent reputation in ensuring a safe, secure and stimulating environment focused on nurturing the unique and individual strengths of every child who attends.
Stepping Stones Nursery is committed to the highest standards of care and education for all children entrusted to our care. We aim to instill in all children and practitioners, the importance of respect, valuing others and building positive relationships.
We promote and celebrate achievement, encouraging children to become successful learners and competent, confident individuals.
Our goal for everyone within the setting is to:
ENJOY, ACHIEVE and FULFILL THEIR UNIQUE POTENTIAL
What parent's say about Stepping Stones Nursery Coventry;
"your key person policy has been amazing and this no doubt reflects in your high Ofsted rating"
"I know going to nursery has been a great benefit to my child and she has enjoyed her time at Stepping Stones"
"We really feel that our child's time at Stepping Stones has contributed to making her a far more confident and sociable child and believe that she will settle into her new school far more easily as a result"
What Ofsted say about Stepping Stones Nursery Coventry;
"Children are flourishing in this child centered nursery"
"Children are making substantial progress in their learning and development because staff are extremely competent at stimulating interest"
"Children enjoy their time at the nursery immensely"
We pride ourselves in recruiting and developing a highly skilled, motivated and competent staff team, who are rigorously vetted and take part in continuous staff development and training programme's.
We offer 2,3 and 4 year old government funded hours, we take children ages from 6 weeks to rising 5's, and operate from 7.30am to 6.00pm Mondays to Fridays all year round.
We are currently rated 'Outstanding' in all areas by Ofsted.