Our Team
What really makes our nursery so special are the people who work for us. We value all of our staff and the important role they play in caring and supporting children's learning.  Our lovely staff team are a collection of loving, passionate, caring and friendly group of people. 
All our staff undergo full DBS checks and have regular supervision reviews, we have an intense staff training and development system and as a minimum all staff have the following training:
First Aid Training

Food Hygiene

Child Protection Training 
Here is an introduction to those in charge of ensuring our nursery continues to thrive.
Mrs Shoker – Nursery Owner & Manager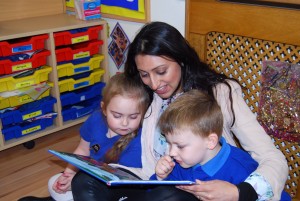 "After the birth of my second child in 2006, i realised the lack of high quality childcare, so I took the decision to open my own nursery. My ethos has always been to given the children who attend the nursery the same quality care and experience as I would want for my own children. I am a highly driven individual always striving for quality and high standards, and together with my management team I am proud that we continually attain my expectations of a good nursery."
Qualified to level 6 as an early year's teacher & BA (Hons) in Business Studies.
DSL (Designated Safeguarding Lead)
MHFA Mental Health First Aid Champion
---
Miss Dixon – Manager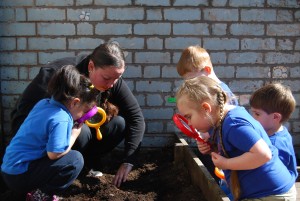 "I have a continual passion for early years, with over 10 years experience, I have always been dedicated to supporting children develop and thrive.  I have been at Stepping Stones since 2006 and have gained great experience during my time here.  I have worked my way up from a student to manager.  I find my job highly rewarding, I have a very hands on nature and enjoy creating stimulating activities for children.  The best part of my job is knowing I have helped with a child's development and helped them to work towards their goal."
Qualified to NVQ Level 3 in children's care, learning and development
DSL (Designated Safeguarding Lead)
MHFA Mental Health First Aid Champion
TQUK Level 2 in Awareness of Mental Health Problems
---
Mrs Sanders – Deputy Manager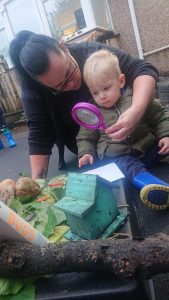 "Since i was a young girl i enjoyed being with children now as a adult i continue to have the passion and drive and enjoyment of working with children.  With over 22 years experience i have cared for children of various ages including new borns, toddlers, pre-school, school age, pre-teens and young adults with learning disabilities i truely enjoy the challenges and opportunities of working with children and their families.
I have been at Stepping Stones since 2015 and have a great passion for my job and feel immense satisfaction from seeing children learn and grow."
Qualified to NVQ Level 3 in children's care, learning and development
DSL (Designated Safeguarding Lead)
MHFA Mental Health First Aid Champion
TQUK Level 2 in Awareness of Mental Health Problems
---