Our Team
What really makes our nursery so special are the people who work for us.We value all of our staff and the important role they play in caring and supporting children's learning.
All our staff undergo full DBS checks and have regular supervision reviews, we have an intense staff training and development system and as a minimum all staff have the following training:
First Aid Training

Food Hygiene

Child Protection/Safeguarding Training 
Here is an introduction to those in charge of ensuring our nursery continues to thrive.
Mrs Shoker – Nursery Owner & Manager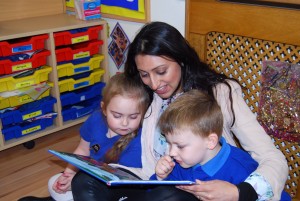 "After the birth of my second child, i realised the lack of high quality childcare, so I took the decision to open my own nursery. My ethos has always been to given the children who attend the nursery the same quality care and experience as I would want for my own children. I am a highly driven individual always striving for quality and high standards, and together with my management team I am proud that we continually attain my expectations of a good nursery."
Qualified to level 6 as an early year's teacher & BA (Hons) in Business Studies.
---

Miss Dixon – Manager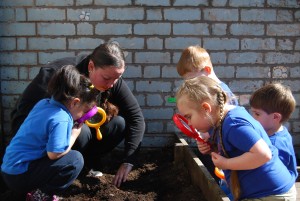 "I have a continual passion for early years, with over 10 years experience, I have always been dedicated to supporting children develop and thrive.  I have been at Stepping Stones since 2006 and have gained great experience during my time here.  I have worked my way up from a student to manager.  I find my job highly rewarding, I have a very hands on nature and enjoy creating stimulating activities for children.  The best part of my job is knowing I have helped with a child's development and helped them to work towards their goal."
Qualified to level 3.
---

Mrs Sanders – Deputy Manager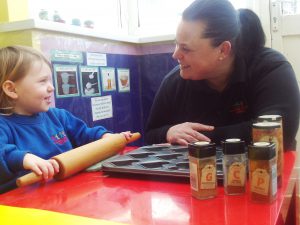 "Since i was a young girl i enjoyed being with children now as a adult i continue to have the passion and drive and enjoyment of working with children.  With over 22 years experience i have cared for children of various ages including new borns, toddlers, pre-school, school age, pre-teens and young adults with learning disabilities i truely enjoy the challenges and opportunities of working with children and their families.
I have a great passion for my job and feel immense satisfaction from seeing children learn and grow."
Qualified to level 3.
---

Miss Rowstron – Early Years Co-ordinator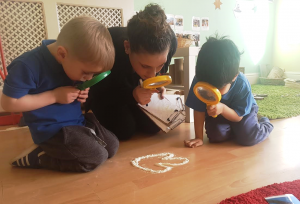 I have always wanted to work with children from a very early age. I have worked in various settings over a period of 9 years. I joined the Stepping Stones team in 2013 and have gained much experience from them. I have worked in the preschool room since I have started and have really enjoyed watching the children become independent and ready for the new chapter in their lives. I have also enjoyed getting them ready for their school life and seeing them develop into brilliant, confident children."
Qualified to level 6 BA (Hons) in Early Years.
---

Miss Dewitt – Deputy Manager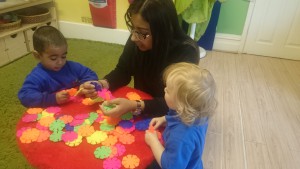 "I have recently joined the team at Stepping Stones, and am currently working towards a BA Hons Early Childhood Studies, throughout my degree I have experienced several work based placements which has given me the opportunity to extend my theoretical knowledge as well as practical, enabling a more holistic understanding of child development and relevant curriculum's. My role within the nursery is Room Leader, where I enjoy the responsibility and the challenge of working with children.
To work with children is my main goal in life. I very much enjoy being around children and love to teach them essential skills that they will use for rest of their life."
Qualified to level 6 BA (Hons) in Childhood Studies.
---

Mr Busby – Early Years Co-ordinator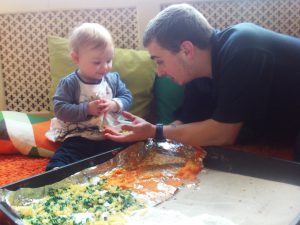 "With over 8 years experience, I have gone from being an apprentice to working my way up to my current role of team leader.
I have recently joined the team at Stepping Stones Nursery since July 2015 when I returned to work following the birth of my daughter. Not only did I choose stepping stones as my workplace but also as a childcare provider for my daughter. I feel that being a mother as well as a room leader helps me fully understand the perspectives of parents and how to support the children to the best of my ability.
The most rewarding part of  working in the early years sector is watching the children grow and develop and knowing that I've played a part in that child's life."
Qualified to level 3.